Whilst tourists and giant cruise ships flock to the teeming, Insta-famous Santorini, Naxos remains one of the Cyclades' best hidden gems. The island is still unheard of by many foreign visitors, despite being just four hours from both Athens and Mykonos, but, trust us, it's more than worth your time. The island boasts ancient Byzantine history, authentic hilltop villages, mouthwatering local delicacies and endless, pristine sand beaches. So, take your time exploring this underrated treasure and you could soon feel yourself falling in love with an island that has every shade of blue under the sun.
An easy place to start discovering Naxos' charm is the old town – also known as "Chora". It's the first place you'll see when hopping off the ferry at the main port. Here, I'd recommend wandering down the bustling sea front promenade, lined with vibrant shops and eateries which have unbeatable sunset views in the evenings.
If your nose doesn't lead you there first, pop into one of the bakeries and try out the fresh-out-of-the-oven spanikopita and baklava – the best Greek pastries, in my opinion! Despite Naxos being the largest of the Cyclades, it's surprisingly easy and cheap to get around thanks to the excellent public transport. During May until September, buses run frequently from one side of the island to another for just a few Euros and taxis are readily available from Chora – so there's no need to hire a car here.
Heading inland on foot, the old town has a mystifying labyrinth of cobbled alleys and courtyards, occupied by restaurants, jewelry boutiques and second hand bookshops that come alive at night– don't be too surprised to turn a corner to find an eccentric artist painting on a multicolored easel under a dim lamp light.
For those interested in Greece's ancient history, this district is overlooked by the historic hilltop castle – or "kastro". The kastro regularly holds orchestral performances (with a reasonable entry fee) inside the castle grounds and also offers a Venetian museum for those wanting to learn more about the architecture. With drawbridges, turrets and fortresses, it's easy to feel transported back into the Roman era of Naxos' dynamic history. Once you're done here, stroll up to the Temple of Apollo, the iconic statue just off the main seafront and watch spectacular, orange skies as the sun sets over horizon of the Aegean Sea.
With such a varied landscape, Naxos offers a little more adventure than a standard, poolside island retreat. For travelers that like a challenge in the great outdoors, the plethora of mountainous hiking trails offer stunning vistas of green highlands dotted by quaint, white villages.
From the main port, I advise heading to the central bus station for a panoramic ride into the highlands, where you should hop off at Filoti. Wander the narrow alleys embellished with fuscia pink Bougainvillea flowers, stopping at a local taverna for freshly-squeezed lemonade before beginning your hike. Make sure to take water and a map (there are some occasional signs but it is easy to stroll off track… unless your Greek is up to scratch, you might get some quizzical looks from the locals when asking for directions!).
For those who prefer to stick close to the glistening, cobalt sea, Naxos' bays offer the perfect conditions for windsurfing and kitesurfing. When the northern Meltemia winds blow in the summer months, spots such as Laguna, Agios Georgios, Agios Prokopios and Plaka are havens for all watersports lovers alike – from novice to professional. With fully-equipped surf centers dotted along Naxos' shallow blue lagoons providing lessons and equipment hire, I highly recommend getting the thrill (and the arm ache!) from an hour's windsurfing session.
If all that talk of activity has built up your appetite, Naxian food certainly hits the spot. With its long-established agricultural economy, Naxos produces an abundance of local delights from its fertile lands, including green vegetables, sheep and goat meat, fish, potatoes, olives and honey, all of which form the basis of traditional Naxian cuisine. My advice would be to look out for family tavernas, where the finest, most authentic food is cooked by chefs who are likely to be anywhere from 60 to 80 years old. After all the practice, they really are masters in the kitchen and the aromas wafting from their open back kitchens will send your taste buds into frenzy.
To chase down the food and finish off your meal, it would be rude not to mention Naxos' exquisite red wine, as well as the locally-loved Kitron (best described as lemon liquor made from the fruit and leaves of the island's citron trees) which is a must-try.
Last but by no means least, Naxos' stunningly long, sandy beaches and turquoise seas are an obvious draw. Soak up some sun and relax on Naxos' most visited beach, Agios Georgios, or catch a bus to Plaka for a quieter, more secluded spot. Don't be alarmed by the open nudity at Plaka, it's popular with naturists and European seniors enjoy getting an all-over tan here. With a few laid back, driftwood sculpted beach bars, Plaka is a perfect spot to people watch over an ice-cold cocktail.
Sounding like heaven to you? Get yourself to Naxos, Greece's most underrated island, before the rest of the world discovers this hidden paradise.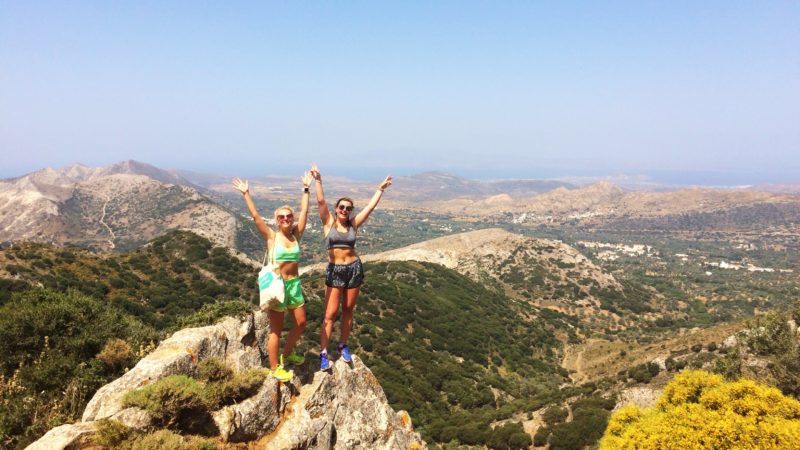 The writer, Lauren, and her friend mid-hike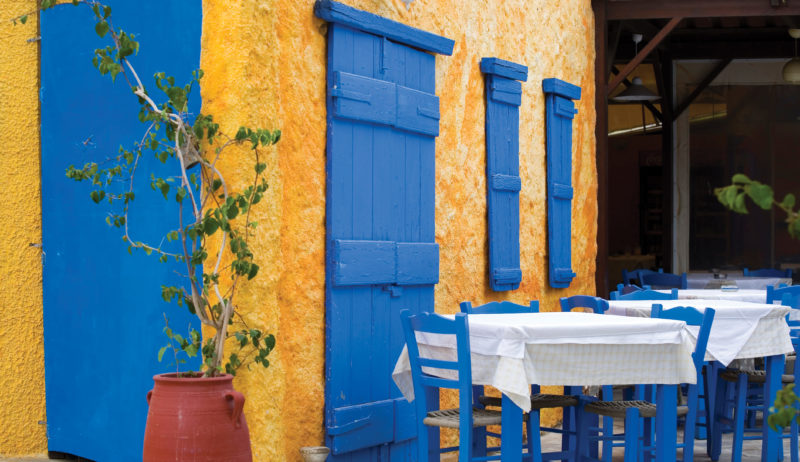 The quintessentially Greek taverna