From article: What to do, see and eat on Naxos – the largest of the Cyclades
Skip Santorini and make your way to its larger, beachier neighbour, says Laura Hampson
Sure, Santorini has the dramatic clifftops, the stunning sunsets and the whimsy walkways – but the one thing it's lacking? Dreamy beaches.
This is where Naxos steps in. Just a two-hour ferry from Santorini, a five-hour ferry from Athens or a 40-minute flight from the Greek capital, if you are so inclined. The largest of the Cyclades is often overlooked for its glitzier neighbours (Paros and Ios are also right next door).
Yet, if you want a holiday where you can find hidden beaches and won't be vying with other tourists for the same sunset pic, head to Naxos where the sea shimmers and the beaches are plenty.
No visit to Naxos is complete without a day spent on a yacht, cruising around the island and the small Cyclades nearby.
If boats aren't your thing, a car rental is a necessary Naxos accessory to get to the more secluded beaches on the island, like Sahara, Maragas, Alyko and Orkos where you'll be away from the crowds. The beaches here boast white sands and cyan waters and many are nudism-friendly, if that's your thing.
A car is also necessary if you want to explore the island's biggest peak, Mount Zas – not only the highest peak in Naxos but the highest point in the Cyclades. Drive to the car park and make your way up in the morning before the midday heat sets in, the return hike should take around four hours.
From article: From Naxos to Sifnos and Milos: 20 of the most beautiful Greek islands to visit this summer
Dreaming of crystal clear waters, sun-drenched white sand and long souvlaki lunches? Let us be your guide to the lesser-known Greek isles worth the trip this summer.
T
here is something undeniably magical about Greece in the summer.
Whether it's the picturesque whitewashed villages, guaranteed blue skies or turquoise waters, island-hopping around the Aegean only seems to grow in popularity with time. And after the uncertainty of the last few years, many of us have been collectively longing for those long souvlaki lunches on sun-drenched cycladic beaches that we once took for granted.
Thankfully summer holiday plans are looking more promising this year. But with 227 inhabited islands to choose from, where to go? Looking to avoid the hordes? Want to experience a different slice of Greece this time around? We've rounded up some of the most beautiful and lesser-known destinations that are well worth the trip.
Naxos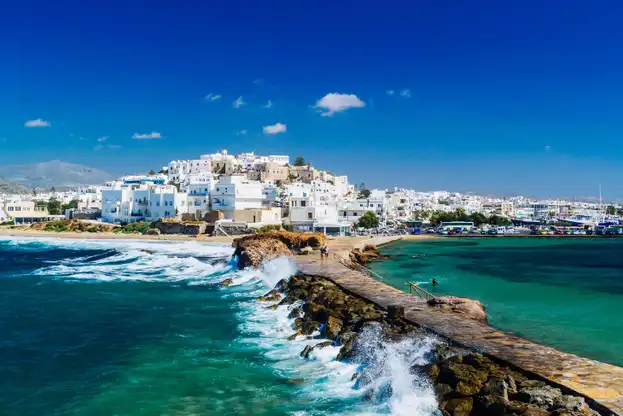 Imagine powdery white sand beaches stretching languorously along the coast, flanked by the kind of unbelievably blue water Greece is known for and you'll find Naxos: a sun-worshipper's paradise. Cobbled alleyways line the capital of Chora and contrasts nicely with the vast countryside filled with mountain villages, idyllic beaches and historic sites.